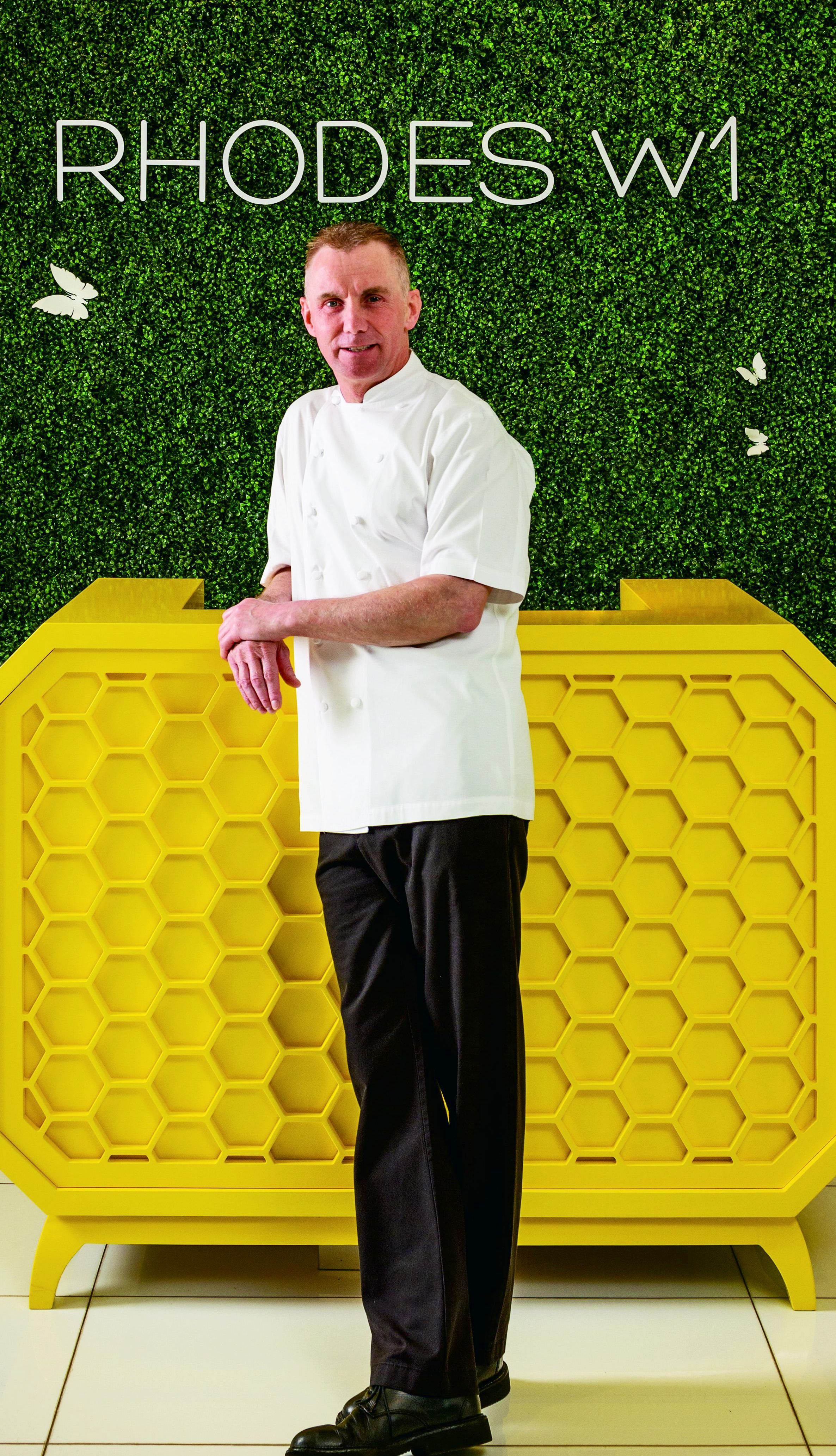 Gary Rhodes' legendary dedication to his craft and relentless pursuit of perfection has placed him firmly at the forefront of today's culinary world.
Chef, restaurateur, celebrity and author; his distinguished career, tireless attention to detail and unique mastery of the 'Great British Classics' truly sets him apart.
A history of stunning restaurants has won him a constellation of Michelin stars and he is consistently revered by his peers as truly 'The Chef's Chef'.
Well-known as an ambassador for British cuisine, Gary has achieved what no other chef has previously managed to do: he has re-introduced the nation to its rich gastronomic heritage and uncovered a culinary culture to rival that of any other country in the world.
A life in Food
Gary was born in South London in 1960 spending most of his childhood years in Gillingham, Kent. He beg an experimenting in the kitchen as a teenager, preparing family meals whilst his mother was at work. His first major culinary achievement, at the age of 13, was a Sunday roast followed by a classic British dessert - Marguerite Patten's steamed lemon sponge pudding. One look at his family's delighted faces as they got stuck in was enough to convince him that a cook's life was the one for him.
After 3 years training at Thanet technical college (where he met his future wife, Jennie) Gary realised that he would need to travel if he was to expand his techniques and fully develop his career. Europe at that time was producing the best hotel ch efs and cuisine, and his first job was as commis chef at the Amsterdam Hilton. Here, he began to experiment with nouvelle cuisine and started to challenge preconceptions of food pre paration.
Success was swift and Gary went on to become the so us chef at the Reform Club, Pall Mall. From there he had the opportunity to become Brian T urner's sous chef at the Michelin starred Capital Hotel in Knightsbridge. After two successfu l years with Brian Turner, Gary moved to Whitehall in Essex as Head Chef, and within twelve months another great opportunity arose – the chance to take over from Chris Oaks at The Cast le Hotel in Taunton, the home of one of the greats of the culinary world, Kit Chapman. As H ead Chef this is where he really started to make a name for himself – he retained the hotel's M ichelin star, at just 26 years of age!
It was during his time at the Castle Hotel that he developed the passion for British food that was to set the course for a hugely successful career, and ultimately it was where he discovered his talent for taking traditional dishes and refining them into new modern British classics.
By 1990, when he joined the Greenhouse Restaurant i n Mayfair as Head Chef, his reputation as one of the UK's leading culinary masters was wel l established. Here, he revived great classics such as faggots, fish cakes, braised oxtails and even bread and butter pudding (which in his hands became a truly sumptuous desser t). With free rein to explore British cuisine, he embarked upon a gastronomic journey of discovery, reinventing and rejuvenating old favourites to create new and incredibly exciting food. Nobody was too surprised when, in January 1996, he won a Michelin Star for the Greenh ouse - the restaurant's first, Gary's second.
Since then, he has gone from strength to strength - in 1997, he opened City Rhodes (with global contract catering company Sodexho, their fir st collaboration), and next, a year later, came Rhodes in the Square. Both were awarded Michel in Stars.
Other restaurants followed in 1999, and Gary took a slight change of direction away from the London-based fine dining establishments into the mo re widely affordable and easily accessible brasseries of Rhodes & Co in Manchester, Edinburgh and Crawley. These efforts were rewarded when the Manchester and Edinburgh bra sseries were both awarded the Michelin Bib Gourmand, an accolade for good food, moderately priced.
Gary opened his first overseas restaurant in 2004 a t the five-star Calabash Hotel on the beautiful 'spice island' of Grenada. 2005 saw his undisputedly successful London restaur ant, Rhodes Twenty Four, with spectacular views over the City from Tower 42, winn ing its first Michelin star. That year Gary also opened Rhodes W1 Brasserie in the newly refurb ished Cumberland Hotel in Marble Arch. He also launched 'Arcadian Rhodes' aboard th e P&O superliner Arcadia and opened 'Oriana Rhodes' aboard the superliner Oriana the fo llowing year.
2007 welcomed the launch of his new Rhodes W1 Fine Dining restaurant at The Cumberland Hotel in May of that year and the opening of Rhodes Mezzanine at The Grosvenor House Hotel, Dubai followed in September.
In January 2008, Rhodes W1 Restaurant was awarded a Michelin star, bringing Gary's total to 6. Later that year, he opened 'Rhodes South' res taurant, in Mudeford, Dorset.
In August 2010 Gary opened Rhodes Twenty10 at Le Ro yal Meridien, in Dubai to great success. Both of Gary's restaurants in Dubai have b een recently honoured with a number of awards. Rhodes Mezzanine won 'Best Contemporary Eur opean Restaurant' and 'Best Restaurant of the Year' at the Time Out Awards and 'Restaurant of the Year' at the Caterer Middle East Awards in 2010. At the beginning of 201 1 both Rhodes Mezzanine and Rhodes Twenty10 received top awards at the inaugural BBC G ood Food Middle East Awards, winning 'Best European Restaurant' and 'Best Newcomer of th e Year' respectively.
Gary has written numerous books and presented many cookery series. In the past few years he has appeared on the Good Food channel travelling and discovering the culinary secrets of India; China; the Caribbean; and Italy. Gary continues to appear on the BBC and was recently seen in the series 'Great British Food Revival 2'.
Gary has cooked on almost every continent for royal ty, prime ministers, presidents and all the president's men! He has cooked on the QE2 and the Orient Express. He has achieved many personal ambitions including cooking for Princess Diana, the Jordan Formula One team, the British team at La Mans, and his beloved Manchester United.
In 2006 Gary was honoured with an OBE.
Gary lives in Kent with Jennie and his two sons, Samuel and George.
Afternoon tea on Fridays and Saturdays

2:30 PM - 5:00 PM

Dinner

7:00 PM - 11:30 PM Last Order 11:00 PM

Happy Hour

7:00 PM - 11:00 PM

Closed

Sundays